Introducing the Ntropy Dashboard!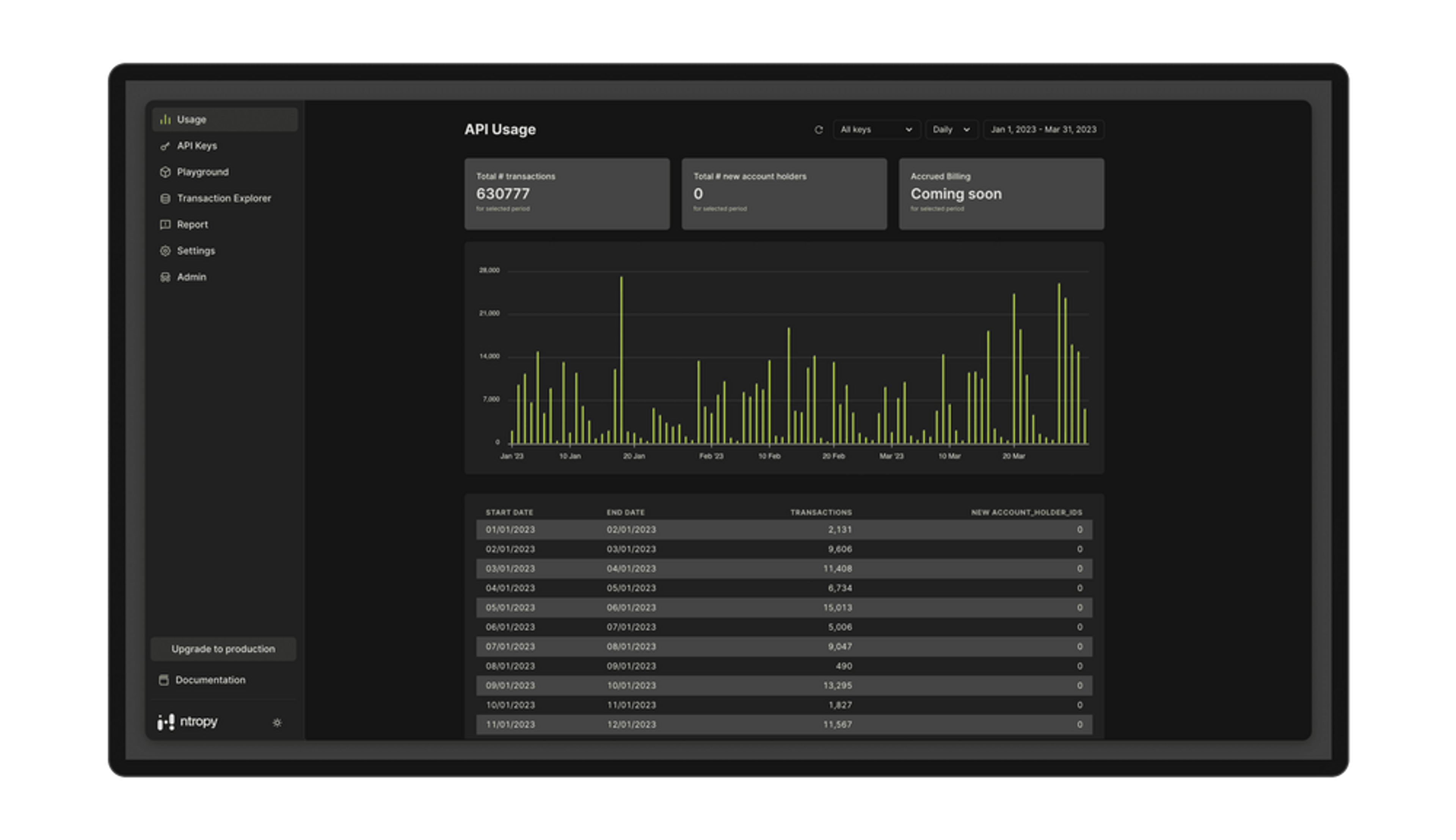 Author
Michael Jenkins
Product Marketing Lead
We are excited to share something our team has been working on for the past few weeks … the Ntropy Dashboard!‍
---
What is the Ntropy Dashboard?
The Ntropy Dashboard is a self-service way to get started with Ntropy.  You can sign up to Ntropy Dashboard here or clicking "Get API Key" on the Ntropy homepage. Once you are set up you can use the dashboard to create a test API key and start sending data for enrichment all without having to talk with anyone at Ntropy.All in less than one minute. Another reason why Ntropy is the better way to building with financial data! (p.s. we would still love to talk and learn more about what you are building!). 
If you are building lending solutions or expense management software, try out our enrichment capabilities to get clean and standardised merchant information and consistent categories.‍
---
Why did we do this?
We recognised that some prospective customers wanted to try out our enrichment capabilities themselves in their own time before talking to someone, and now you can! Play around with our enrichment capabilities to see how accurate we are.  
I am sure you'll discover that we are the most accurate financial data standardisation and enrichment API on the market.‍
---
What can you do on the dashboard?
Once you have set up your account, the dashboard will allow you to;
Monitor your API usage
Manage your API keys
Report any bugs with any enrichments
Manage and invite colleagues to your organisation
View our documentation
Contact us to upgrade to production
This is the first version of the dashboard and we have lots of exciting features on the roadmap so stay tuned but we look forward to seeing what you build!
‍Sign up and try the Ntropy Dashboard here